Bethel Presbyterian Church Cemetery is situated on three acres at 2445 Highway 557 in Clover, York County, South Carolina, is part of a 65 to 70 acres owned by the Bethel Presbyterian Church. The church's congregation was organized in 1764 by Reverend William Richardson, who was instrumental in the formation of four other Presbyterian congregations in the South Carolina Upcountry. Bethel is the oldest church in York County. The congregation's current sanctuary was built during the summer of 1873, and is a vernacular treatment of a colonial meeting house. It is the church's fourth building, and is an exact copy of the church's third building. The church building derives its significance from its architectural representation "of a style and construction methods of a much earlier period," and stands as an "architectural achievement during a time of political and social upheaval and economic adversity." The church's architectural and historical significance and integrity complements its cemetery and is compatible with the rural and picturesque setting that its cemetery covers.
The Bethel Presbyterian Church Cemetery contains approximately 3,500 gravestones and monuments and is included on Bethel Presbyterian Church's National Register of Historic Places nomination form. The large cemetery spans three acres of a ridge at the church property's east elevation, and the earliest gravestone standing in the cemetery dates to 1774. The cemetery is enclosed by a rock wall at its north, east, and west elevations, and a slave cemetery is located at the church property's eastern boundary, outside of the rock wall. According to a Ground Penetrating Radar (GPR) Survey completed by Keith Seramur of Seramur and Associates in 2013, there are approximately seven areas of burials in the slave cemetery.
Buried in the church cemetery are members of Bethel Presbyterian Church who served our nation in the American Revolution, War of 1812, Civil War, World War I, and World War II. Also interred in the cemetery is Reverend Samuel Watson, minister at Bethel for forty-two years (1840-1882), and Reverend James S. Adams, stated supply minister at Bethel for twenty-nine years (1811-1840). There is a total of fifty-two men buried in the cemetery who fought during the American Revolution such as Colonel Samuel Watson, Colonel William Hill, Colonel Thomas Neel, and sons of Thomas Neel: Thomas Neel, Jr, Andrew Neel, and John Neel. Other Revolutionary War veterans buried at Bethel include Colonel Joseph Howe, Captain William Davis, Captain Peter Clinton, David Jackson, Dr. William MacLean, and Pioneer Henry Craig. Twenty-one of the Revolutionary War soldiers buried at Bethel fought at the Battle of Kings Mountain. Five soldiers of the War of 1812 are buried in the cemetery, as well as seventy-six Civil War soldiers, and a large number of WWI and WWII soldiers.
The cemetery also has special significance for its funerary art and gravestone and monument types from the late eighteenth century through the early twentieth century by stonecutters and engravers from both North Carolina and South Carolina. The cemetery has gravestones that possess the funerary artistry of noted North Carolina and South Carolina stonecutters and engravers from the Bigham Family, James Crawford (1775-1842), William N. Crawford (1808-1894), Robert M. Crawford (1803- 1865), John Caveny (1778-1853), and Robert C. Caveny (1808-1890). Other stonecutters and engravers whose work is represented in the cemetery include, from Charlotte, North Carolina, Berryhill & Johnston, McNinch and Kendrick, William Tiddy, and W. G. Berryhill; J. A. Childs and Company of Chester, South Carolina; G. Brown, Columbia, South Carolina; J. B. Beard, Gastonia, North Carolina; J. W. McElwee, Laurinburg, North Carolina; J. M. McLean and Company, Lincolnton, North Carolina; F. Happenfield and Richard Hare, both of York, South Carolina; and, John and W. T. White, Charleston, South Carolina.
Gravestones produced by the Bigham family from 1750 to 1780 bear images of coats and arms, American eagles, and doves of peace, reflecting the regionally prevailing themes of family and cultural exclusivity. Naturalistic symbols such as the fylfot, heart, tree-of-life, sunburst, and compass star were prevalent symbols on German frakturs, furniture, quilts, and gravestones. The fylfot abounds architecturally on mantels and furniture, and the trees of life, sunbursts, compass stars, and sunbursts appear most frequently on gravestones. The most frequent Germanic symbols carved on gravestones include the tree-of-life, compass star, and sunburst. The tree-of-life is representative of birth, growth, decay, death, and rebirth, and its size is based on the age of the deceased. Gravestones executed by Robert Caveny, William N. Crawford, and Robert M. Crawford have each of these Germanic symbols from the 1830s to the 1870s.
The cemetery has gravestone forms such as tablets of marble with rectangular, segmental, and pointed-arch tympanums. Among these typical forms are marble and granite, Neoclassical Revival headstones possessing the funerary artistry indicative of decorative motifs of the late nineteenth and early twentieth century. These headstone forms include pulpit markers, tab and socket, die on base, die, base, and cap, rusticated and smoothly-finished obelisks, pedestal tombs with urns and vaulted roofs, faux tree stumps, and bedsteads with popular motifs such as flowers, drapery, clasped hands, crosses, hands holding roses, ferns, ivy, and symbols associated with fraternal, civic, religious, and governmental organizations.
The gravestones that date from the 1880s to the 1940s are largely of commercial, white and gray marble and buff-colored granite monuments with a combination of tombstone forms and funerary art. These gravestones are made of marble, granite, or concrete. They are small, rectangular marble tablets buried directly in the ground or fit into bases with sockets; tall, square and rectangular marble monuments on square marble or soapstone bases; tall marble and granite obelisks; faux tree stumps; cradle graves for young children; and large, thick granite monuments in family plot enclosures that have a combination of rusticated and polished surfaces with architectural and floral details. The small tablets are two and three inches thick and have rectangular, arched, and triangular tops. The large white marble monuments stand on bases with the family name engraved prominently on the front, with angled, vaulted, and flat tops. A few of these marble monuments have urns affixed to their tops, and others have drapery either engraved or in relief.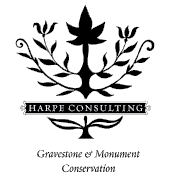 A Harpe Consulting Project