Epitaph:
MARGARET GREY/
HARPER LOVE/
FEB. 3, 1930/
DEC. 18, 2010
Description:
Granite die on base with inscription "LOVE" that serves as the headstone, and a granite lawn-style marker flush with the ground that serves as the footstone.
Biography
OBITUARY.........
Margaret Grey Harper Love, 80, died December 18, 2010 at her home in Belmont, NC.
Mrs. Love was born February 3, 1930 in Clover, SC to the late Paul Campbell and Mary Roberta Harper. She retired from Wachovia Bank after 30 years of service. She was a volunteer for Daniel Stowe Botanical Gardens and Gaston Hospice and a member of the Gaston Home Extension Club. She was member of Scherer Memorial Presbyterian Church, Lake Wylie, SC.
Funeral service was held December 21, 2010 at Scherer Memorial Presbyterian Church with Rev. Rick Lindsay officiating. Interment was in Bethel Presbyterian Church Cemetery.
Survivors included her husband, Hugh Pressley Love, a daughter, Kathryn L. Johnston, two sisters, one brother, two grandchildren and two great-grandchildren.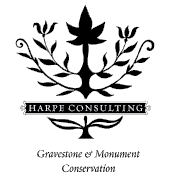 A Harpe Consulting Project